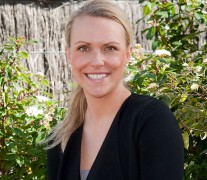 Julia Triggs
Accredited Practicing Dietitian (APD), Accredited Practicing Nutritionist (APN)
Julia completed a Masters in Nutrition and Dietetics in 2008 and a Bachelor of Science in 2004. She has experience in both the public and private sectors of health care and has worked at one of South Australia's largest acute hospitals since 2009 where she specialises in nutrition for gastrointestinal surgery and disease. Julia is experienced in delivering specific and tailored individualised dietary advice for a range of conditions including:
Obesity and weight control
Gastrointestinal disease and surgery
Irritable bowel syndrome and FODMAPS
Coeliac disease
Irritable bowel disease
Bariatric surgery
Bowel resections
Pancreatic disease
Liver disease
Diabetes
Cardiovascular disease
• Malnutrition and enteral nutrition
Medicare may rebate some of the fee if you have a GP Management Plan for the management of a chronic disease. Your GP can let you know whether you qualify for a Plan. Alternatively, your private health insurance may rebate some of the cost. For further information, or to make an appointment here at Stirling, please call reception on 83709777.
  CLINIC HOURS
MON - FRI
8am-6pm
SAT
8am-12pm
SUN &
PUBLIC HOLS
CLOSED
Pre-booked early morning
appointments available
from 7am
  CLINIC LOCATION
14 DRUID AVENUE,
STIRLING SA 5152
Make An Appointment
Visit one of our qualified Health Professionals today!